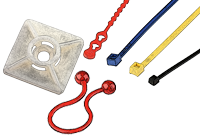 Plastic accessory parts
Börsig GmbH
Siegmund-Loewe-Straße 5
74172 Neckarsulm
Börsig offers many different plastic accessories.
For cable-mounting, for example, you can get cable ties, Drillers, cable holders, cable Clips etc.
Furthermore the Börsig GmbH offers enclosure feet, screw- and adhesive-sockets or wire end ferrules.
Series of products
Cable ties

Different sizes
Different colors
With lable-latch
With fastening-eye
With fork-foot

Drillers

Different sizes and colors
Square-edged and rounded versions
With fork-foot
With adhesive socket

Enclosure feet

Square, cylindric or semi-circular types
Different sizes
Different colors

Wire end ferrules

Different wire-diameters
Different lenghts
Different colors
In single- and dual-version

Screw- and adhesive-sockets

For mounting cable-ties on all different sorts of surfaces by screwing or adhering.