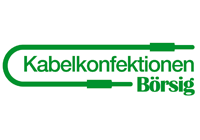 Kabelkonfektionen Börsig GmbH
Siegmund-Loewe-Straße 5
74172 Neckarsulm
Germany
The Harness Maker Kabelkonfektionen Börsig GmbH assembles a broad variety of connectors of numerous manufacturers. If termination is being realized by soldering all manufacturers are possible. If a crimp-termination should be your choice we have to check whether the required crimiping-tool is available. Every eventual detail will be checked in communication with the customer.
Besides the core-business with the listed product-series assemblies with crimp-connectors as well as with flatcable and insulation-displacement-termination by TE Connectivity, assemblies featuring HF-components by HUBER+SUHNER, single-strand-manufacturing up to 300 mm² with components by Zoller&Fröhlich as well as Klauke and Harness-assembly is being realized.
After the assembling, the entire customer order is checked 100 percent. This ensures high quality of our cable assembly.
Series of products
Assemblies featuring circular connectors

For circular connector-assemblies all existing kinds of termination possible – Solder, screw and crimp. Products by Binder, Phoenix, Lemo and Amphenol come to use.

Assemblies feat. heavy-duty industrial connectors

Heavy industrial connectors, modular setups too, for instance manufactured by HARTING are being assembled customer specific.

Assemblies featuring military connectors

Military connectors, like the products manufactured by Glenair are also being assembled for civil applications. Solutions like these are predestinated for demanding surroundings and are favoured in rail-applications and special-vehicles.