The Splitting Entry System from Trelleborg Cable Entry Solutions has been revised and is now available with IP66 protection in the variants MC1 (for one cable) and MC2 (for two cables).
Whether in switchgear, central inverters, industrial energy storage (ESS /BESS), power conversion systems or UPS systems, if you have a large cable diameter, Trelleborg divisible cable entries are the ideal solution.
Cables with already pre-assembled connectors are no problem, due to the divisible design. By detaching the inserts, these are also possible for the most diverse cable diameters from 8mm to 64 mm, and can also be reduced afterwards. The handling is simple and easy to assemble almost without tools.
Increased to IP66, it is fully dustproof and protected against strong jets of water, also suitable for a temperature range of -40°C to +90°C, making it ideal for outdoor use. With its self-extinguishing property according to UL94-V0 and its freedom from halogens (supplied with a yellow card), it rounds off the profile even further.
Listing with UL is currently underway and is expected to be completed by the end of the year.
If you already use the old version, you can easily switch to the improved version, as they are identical in form, fit and function. The previous version will only be phased out towards the end of the year and is still available during a transition period. The improved version will be available from July 2022.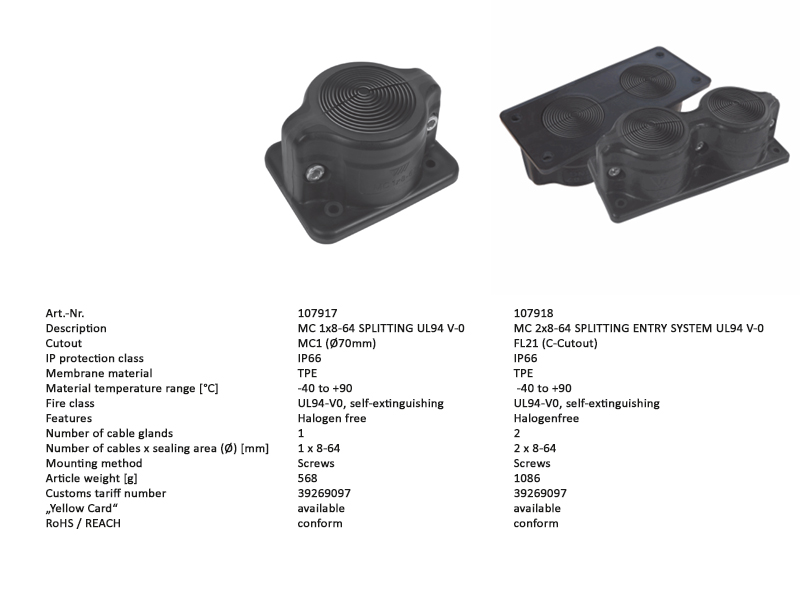 If you have any further questions, please do not hesitate to contact us and we will be happy to prepare your personal offer.
Your contact to us:
back