The new innovative SDE CRIMP hand tool system from TE Connectivity impresses with an even more robust design and the modular die platform. The tools are used in the industrial, automotive, industrial and commercial transport, household appliance or energy sectors, among others.
The SDE CRIMP system will almost replace the previous ERGOCRIMP system. The crimping tool has a two-component handle for better ergonomics and increased leverage due to a longer handle. In addition, the grip force can be individually adjusted. Die inserts can be easily replaced with a simple screw and pin system. Depending on the model, some pliers also have a tilting mount.
Here is an overview of the main advantages of the new system:
Versatility thanks to SDE inserts
Die inserts can be easily changed
Top, rounded jaw increases strength
Motorized support
Ergonomic handling
Greater leverage due to longer handle
Crimping of loose contacts
Frame with positive lock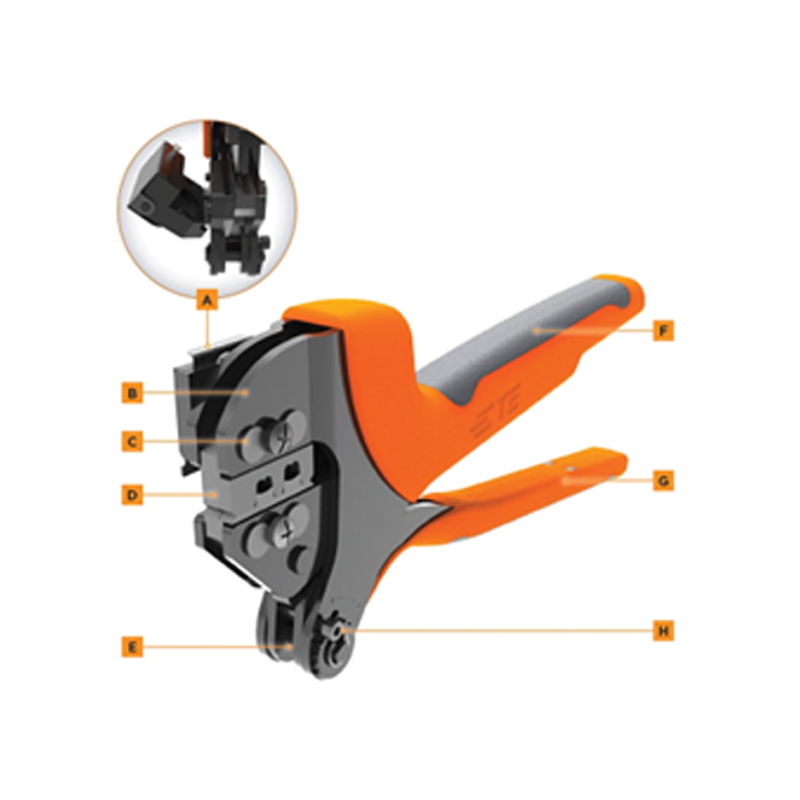 A : Some versions of the SDE tool sets include a standard locator (A) or a foldable positioner (small image) for contact placement and correct positioning of the wires to be crimped.
B : The rounded design of the upper jaw increases strength and provides even force distribution.
C : Die sets are easily interchangeable with a simple pin and screw system
D : The modular SDE.system allows a quick change of tools from manual to motorized hand tools.
E : Frame with positive lock reduces quality problems associated with under crimping by releasing the terminal only after the crimping operation is complete.
F : Bi-material handles provide better control and ergonomics for repetitive crimping operations.
G : Extended handle provides greater leverage, reducing operator effort.
H : Grip force can be adjusted for operator comfort when crimping different terminals.
More informationen can be found at:
IMPORTANT NOTICE:
According to TE Connectivity, the predecessor models of the ERGOCRIMP series will only be available for approx. 3-6 months. The changeover to the SDE system will take place in three stages until September 2022.
For further questions regarding the new tooling system SDE CRIMP or the old system PRO-CRIMPER, your contact persons from the internal sales department will be happy to assist you and provide you with your personal offer.
back